Do you believe, there is a kingdom, where a smart king and a beautiful queen reign? Kingdom which is protected by good dragons? Mountains where human foot hasn´t set on and where Yeti lives? Where no town has a traffic lights and where happiness of citizens is measured regularly?
Let´s go to The Kingdom of Thunder Dragon. Come with me to Bhutan!
"Where? To Bhutan? Is it in Africa?"
"No, it is in Himalaya. Between Tibet and India." I am explaining the goal of my next journey for x-time.
"And why are you going there?"
And I always hesitate what to answer to that person. Because I want to experience the world? Because I want to know other culture . Because I love mountains? Because I am stunned by monks´ singing? Because I want to find the last Shangri-la. Because I am looking for such a place in myself?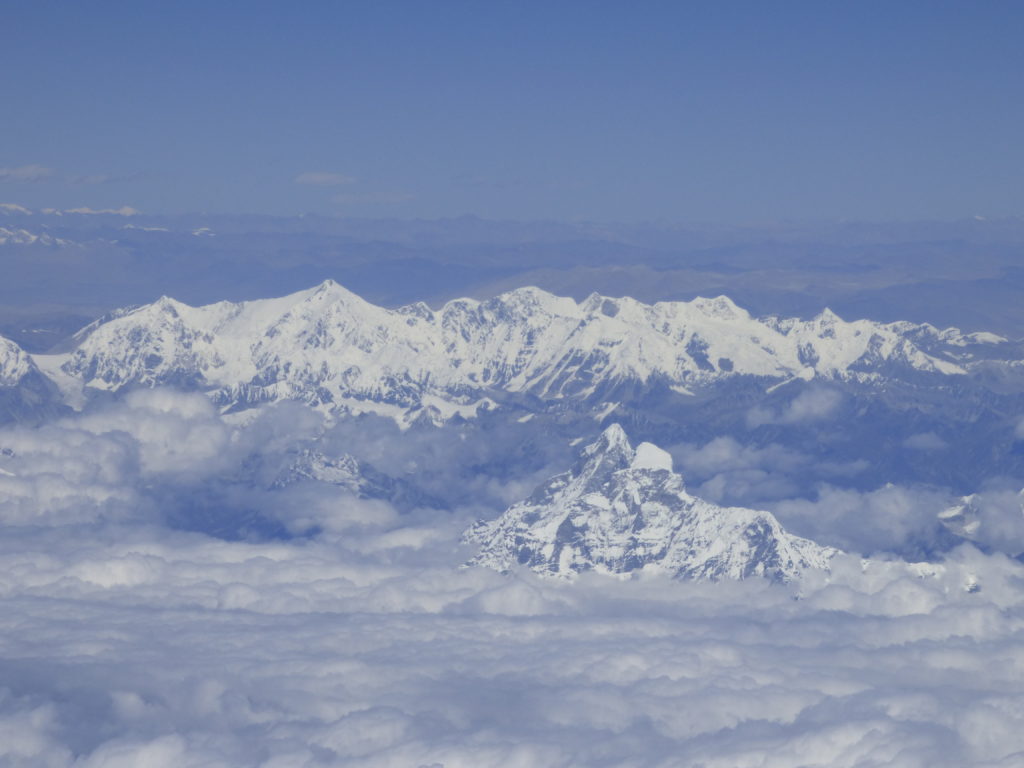 13.10.
There is thirteen of us. Gender ratio F:M is optimal. 3:10. We are flying into narrow valley between high green mountains. The plane is tilting once to the right than to the left. We are going down quite quickly. I can see a river, houses… details on houses… but I still can´t see a railway. As soon as the wheels touch the ground, the railway apears. Awesome!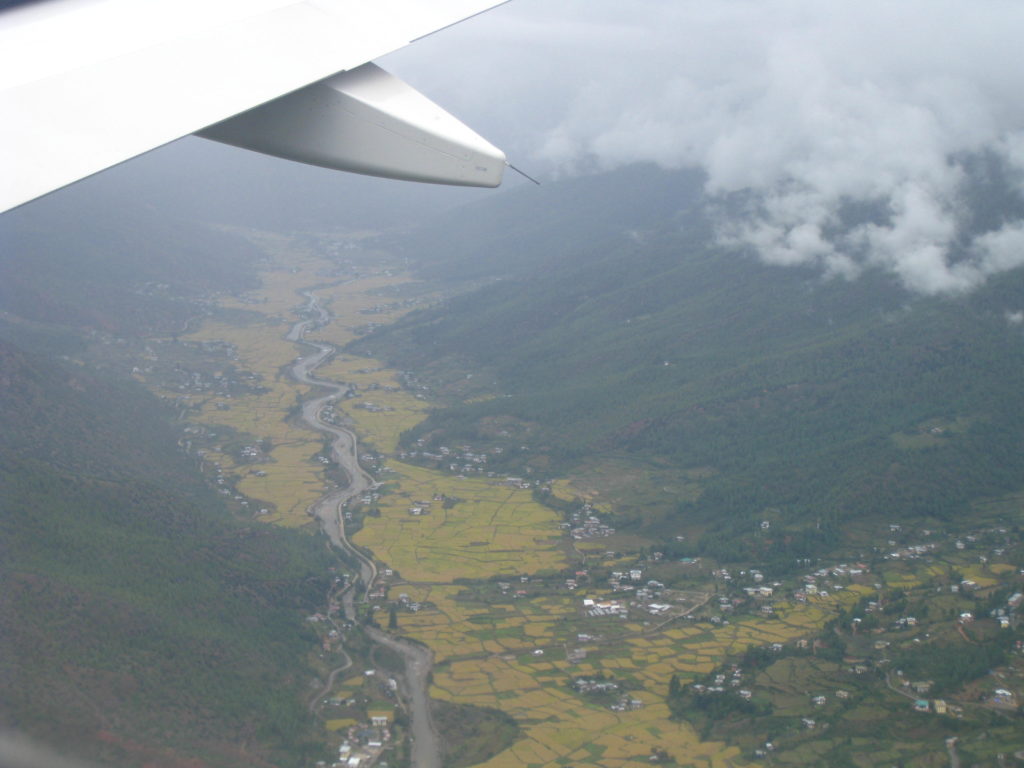 Welcome to Paro, one of the toughest airports in the world in 2280 m.a.s.l. Our pilot has a licence only 10 days, a copilot is a woman and the next plane couldn´t land because of the bad weather. And I know this, because we met two pilots of Druk Air in the evening. One is Slovak and the other one is Czech. They are two of twelve pilots in the world, who have a licence to land in international Paro Airport.
The sky is grey and mist is falling from the surrounding mountains, but there is a smily day inside me, because I am in Druk Yul – the Country of Thunder Dragon. A Kingdom like a painting. Literally. The airport buildings are decorated by typical Bhutanese colourful patterns, so I already feel as in a fairytale.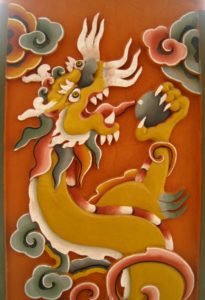 We are passing trough immigration service without waiting in comparison with India. Our guide Dorji and driver Bhim are waiting for us in front of the airport hall. Both of them are wearing a traditional gawn "gho" – a knee-lenght dress wraped around a body and tightened by a cordon, long white sleeves are rolled up. They are giving us katak around our necks – a white scarf used in Tibetan Buddhisms countries as a symbol of a pure heart.
We are travelling on the main road (actually there is only one) by bus along Paro river from Paro town to the capital Thimphu. The only capital in the world which doesn´t have traffic lights. The first stop in Paro river valley is near a chain bridge (made with no nails) leading to the temple of Tachog Lhakhang (Tachog is name and Lhakhang means temple). The temple and the bridge was made by famous yogi, a healer, blacksmith and visionarist Thangtong Gyalpo. Many of 108 bridges, which he made, are functional until today.

We are stopping at the junction of Paro Chu and Thimphu Chu rivers. We are captured by a billboard more than by three white chortens (by the way billboards are banned in the country). By the hole nation beloved fifth king Jigme Khesar Namgyel Wangchuk and his beautiful wife Jetsum Pema are painted on it.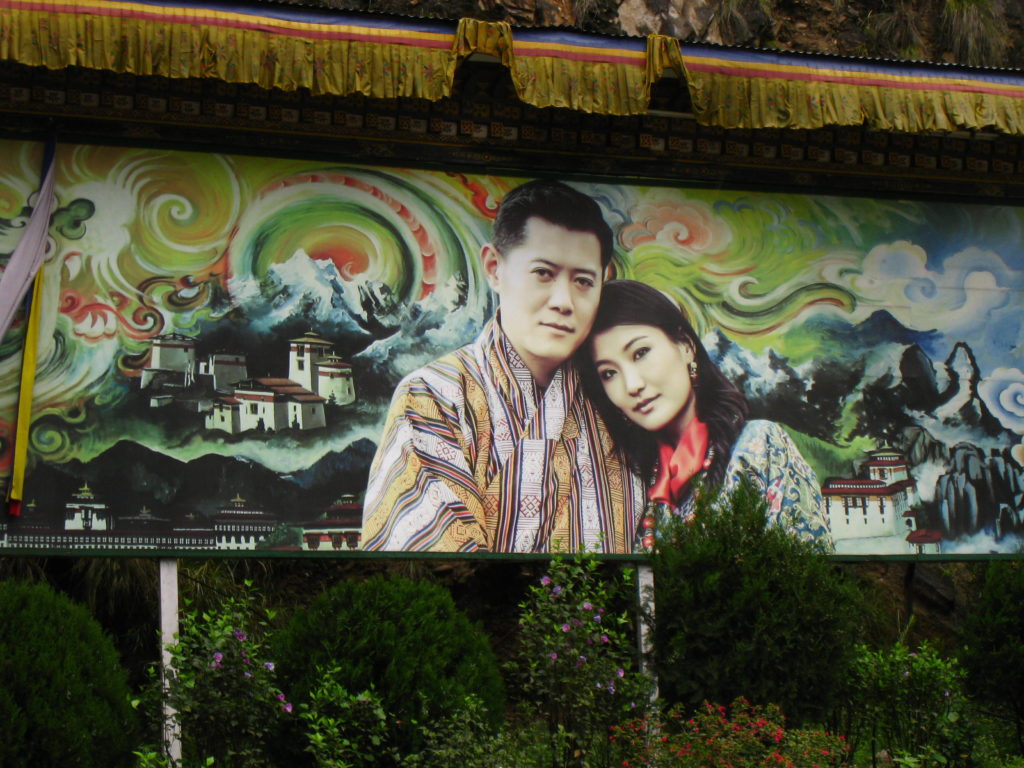 The father of the present king – the fourth king Jigme Singey Wangchuk – established Gross National happiness scheme as a welfare indicator in his country. According to him the economic results are not sufficient to show how the country and people are prospering.
The forth king in his 52 (in 2006) renounced reign and delegated it to his son. The fifth king changed the monarchy from an absolute to a constitutional one. And he lead his nation to the first democratic election in 2008. But as the Druk Gyalpo – the Dragon King has still the final say over the parliament.
The name Druk Yul (in local language Dzonkha) – Country of the Tunder Dragon – comes from 17th century according to the biggest buddhist sect called Drukpa Kagju – Tunder Dragon.
The name Bhutan supposedly came from Bhota-ant, which means South or the end of Tibet. (Bhot is synonymn for Tibet). Or other possibility is that it came from Bhu-uttan which means Country of the high mountains.
Buddhism was spred into Bhutan from Tibet in 7th century by king Songcen Gampo. He had built 108 temples across his kingdom to pin down a big female demon afflicted his country. Two of these temples are in Bhutan.
The biggest Buddhist teacher – Guru Rimpoche allias Padmasambava which means Born from lotus – came to Bhutan in 8th century to spread Buddha´s teaching – dharma. You can recognise him thanks to moustache and he is often  accompanying by a tiger.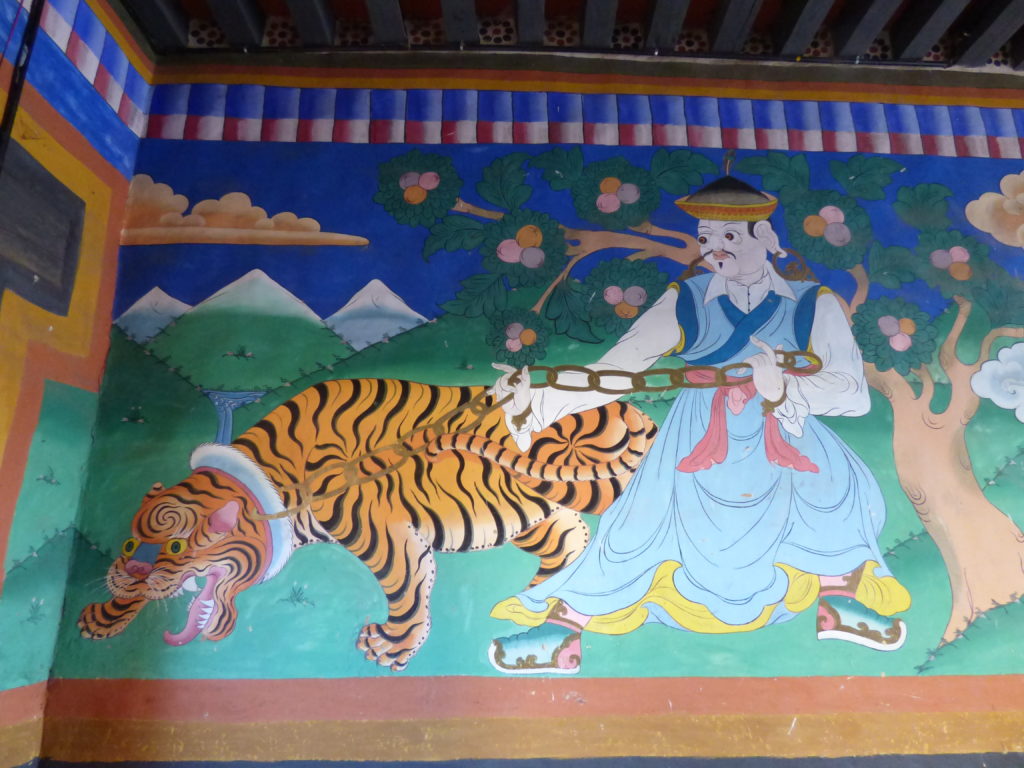 We are coming to Thimphu. Today is a wedding anniversary of the present royal couple. A big festival Tsecho Thimphu is held at the courtyard of the royal palace Tashichodzong. It is raining, but the locals, according whom it is the last monsoon rain, aren´t bothered by it, so we are enjoying the atmosphere. The dances of the men in masks, women with drums, soldiers in historical clothes with swords… All of the dances are slow and long with repetitious  movements. In our hectic minds they can seem as not dynamic enough, but I don´t understand the meaning of them at all, so I am trying to open my mind widely and flow with music.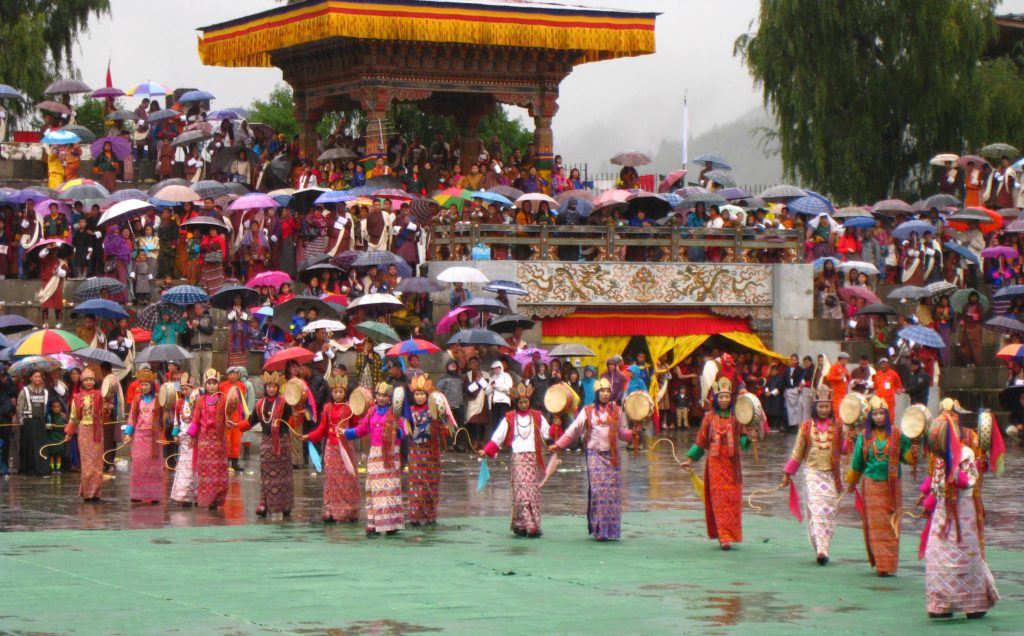 With smiling assistance of the police we queue for a blessing from a monk with a mask of Padmasambava. The blessings are given by right metal hand holding a thunderbolt – dorje – a ritual artefact symbolising indestructibility and insuperable power.
In the evening we are meeting with Slávek and Jozef, the pilots of the royal air company Druk Air – two of twelve pilots in the world who have a licence to fly to and from Paro airport, which is one of the most dangerous airports in the world. Slávek is also the only Czech who has repeatedly undertaken the Tour of the Dragon – the toughest mountain bike race in the world. 268 km through five passes with elevation about 6500 m in less than 16 hours.
After a few Bhutanese beers Red Panda and Druk 10000 we are hopping on a bus and are travelling with the manager of our Bhutanese travel agency – Namgyel Wangchuk – on a hill above Thimphu, where his wealthy family has a house. We have a beautiful view on the Tashichodzong.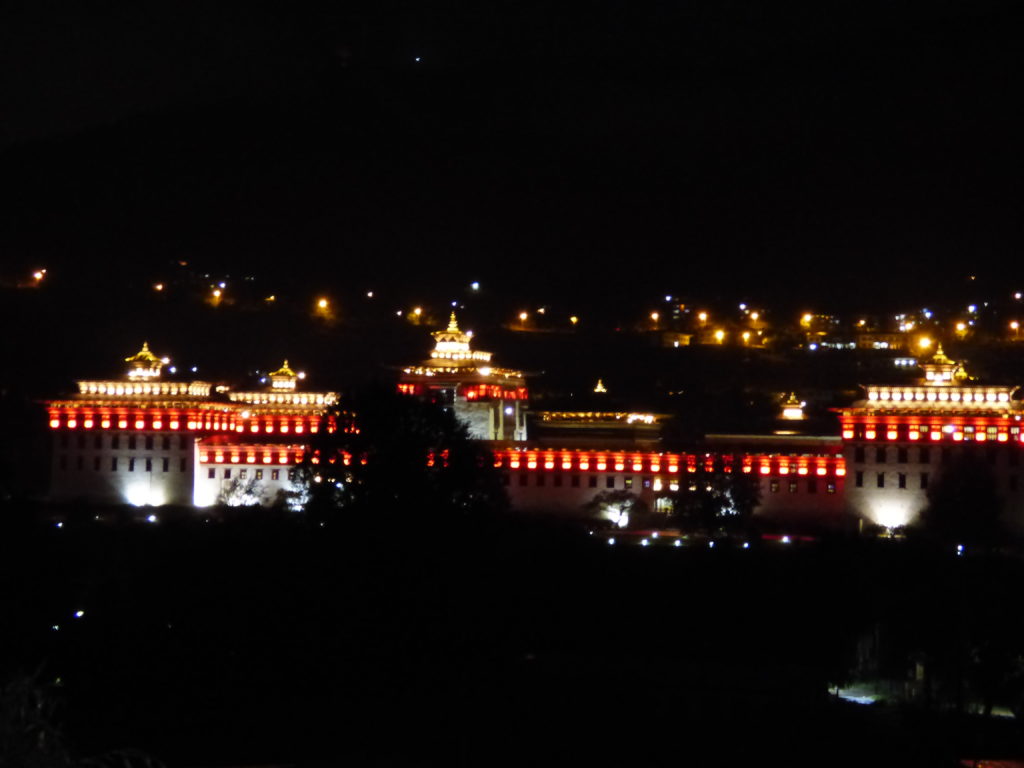 There is their private temple near the house. In the centre of the altar is Buddha, by his right hand is Padmasambava, by his left is Ngawang Namgyal (alias Zhabdrung Rimpoche), a Tibetan lama of the Drukpa Kagju school (Thunder Dragon).
A legend says that Ngawang Namgyal had a dream with a raven which lead him to a promised land. Raven is embodied Mahakala – Big Black. This protective deity lead Ngawang to the end of Tibet – to Bhutan. The country was separated to many dukedoms and Ngawang united them. Raven is a national bird of Bhutan and his place is also on the king´s crown.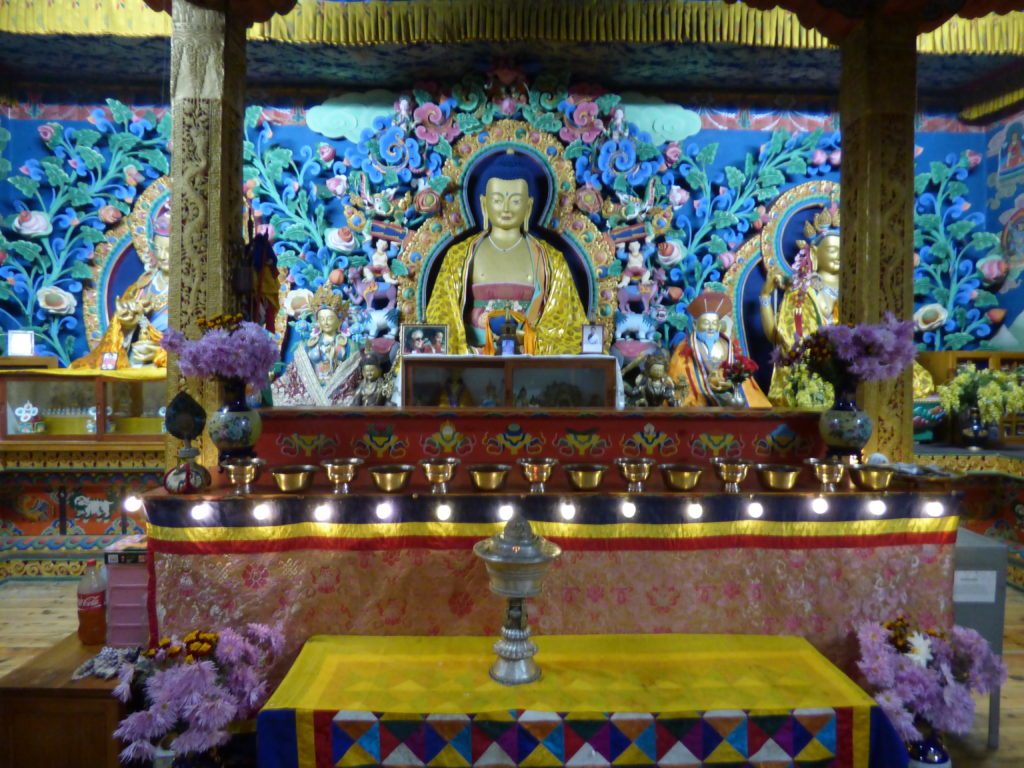 We have a talk with Namgyel´s mum and sister who cooked (actually their staff) a multi course dinner including a local treasure – jarsagomba, alias cordyceps, alias Himalayan Viagra. This stuff is a panacea, it is a stimulant but the most important – an aphrodisiacal. They put it to ara for us. Ara is alcohol made from fermented rice. It is served with an egg – definitely inedible for me.
So many things happend on the first day… Maybe I had a bad piece of jarsagomba , but I am immediately falling asleep while the street dogs are constantly barking in front of our hotel. Fortunately, I have earplugs unlike my friends.